Asante Kotoko Owner Otumfour Osei Tutu Celebrates 24 years : Otumfour Osei Tutu II (born Nana Barima Kwaku Duah : 6 May 1950) is the 16th Asantehene enstooled on 26 April 1999 and such the powerful marked 24 years on the Golden Stool on Wednesday April 26th. 
The Asantehene is the owner and life patron of Asante Kotoko SC. Under him , the club has won the Ghana Premier League seven times in 2003 , 2005 , 2007/08 , 2011/12 , 2012/13 , 2013/14 , 2021/22.
The team also lifted the FA Cup of the 2013/14 season.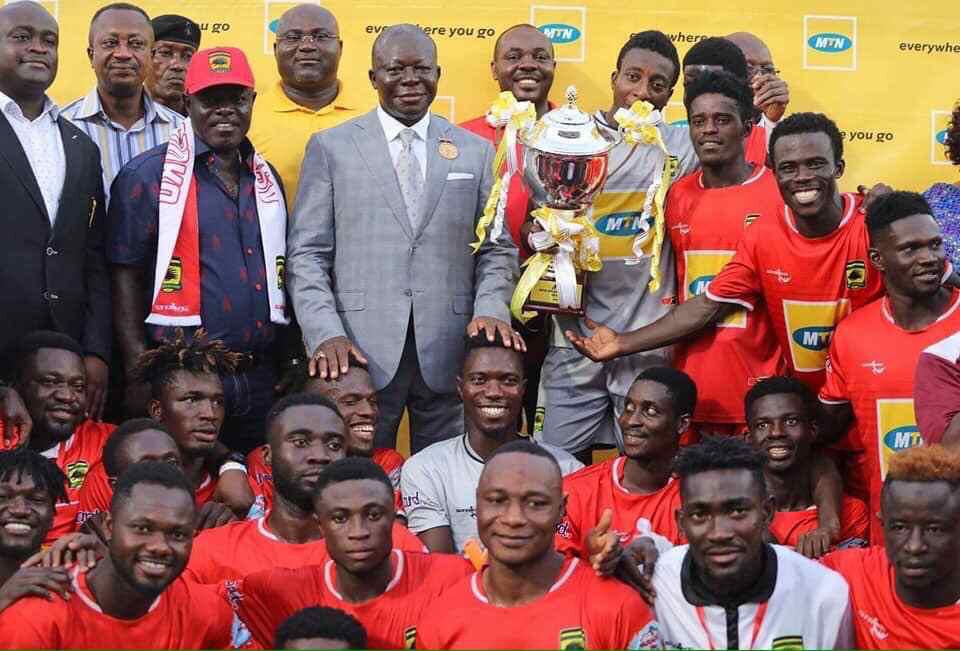 By name, Otumfuo Osei Tutu II is in direct succession to the 17th-century founder of the Ashanti Empire, Otumfuo Osei Tutu I.
He is also the Chancellor of the Kwame Nkrumah University of Science and Technology. Otumfuo Osei Tutu II is the Grand Patron of the Grand Lodge of Ghana and the Sword Bearer of the United Grand Lodge of England.
He was born on 6 May 1950 and named Nana Barima Kwaku Duah, the third son and youngest of the five children (three sons and two daughters) of Nana Afia Kobi Serwaa Ampem II, Asantehemaa (Queen-mother of the Ashanti).
His father Nana Kwame Boakye-Dankwa was from Kantinkyere in Ashanti and was also the Brehyia Duke of Asante. Nana Kwame Boakye-Dankwa died on 1 January 2002, in Kumasi, Ashanti.
Otumfuo Osei Tutu was named after his paternal grandfather, Ohenenana Kwaku Duah (Nana Agari), Brahyiahene, of Kantinkyiren in the Atwima district.
His siblings include Nana Ama Konadu, (Nana Konadu Yiadom III) who is the 14th Asanteheemaa, as well as the late Barima Kwabena Poku, Barima Akwasi Prempeh.
When he was about five years old, Otumfuo moved into the royal household of his uncle, Oheneba Mensah Bonsu, the Hiahene, enstooled in 1952, as early preparation for his future role.
Osei Tutu has six children. His father had other offspring from other marriages, including Yaw Boateng, Kwaku Duah, Kwabena Agyei-Bohyen, Afua Sarpong and Ama Agyemang (Kumasi, Ashanti), Fredua Agyeman Prempeh, Nana Kwasi Agyemang Prempeh and Nana Kwasi Boachie Gyambibi (Kumasi, Ashanti).
The Asantehene Osei Tutu II's name at birth, Nana Barima Kwaku Duah, is the name of the Asante monarch's paternal grandfather.
Under the auspices of the Asantehene , below are some notable achievements of the OTUMFOUR OSEI TUTU II FOUNDATION according to Asanteman News : 
-301,980 students have received full scholarships and bursaries (25,756 full scholarships and 276,244 financial support)
– 788 schools across Ghana have benefited from infrastructural development
– 40 fully completed six-unit classroom blocks and also teacher bungalows
-1million students and 400 schools have benefited from assorted school materials
-980,000 school desks have been distributed to 198 schools across Ghana.
-600 teachers have benefited from Otumfuo Teachers' Awards across Ghana to help improve human resource development.
-Distribution of buses to schools to help ease transportation issues.
Send us your stories and breaking news to editor@ghanasportsmarket.com