Beach Soccer AFCON D3 : The 2022 CAF Beach Soccer AFCON enters Day-Three on Sunday and there are three matches slated for today. 
Uganda will take on Madagascar with both teams searching for a first win at the tournament.
Egypt will lock horns with tournament favourites Senegal whilst Morocco play against hosts Mozambique.
The 2022 CAF Beach Soccer AFCON matches can be watched live on GTV Sports Plus and also on CAFTV on YouTube.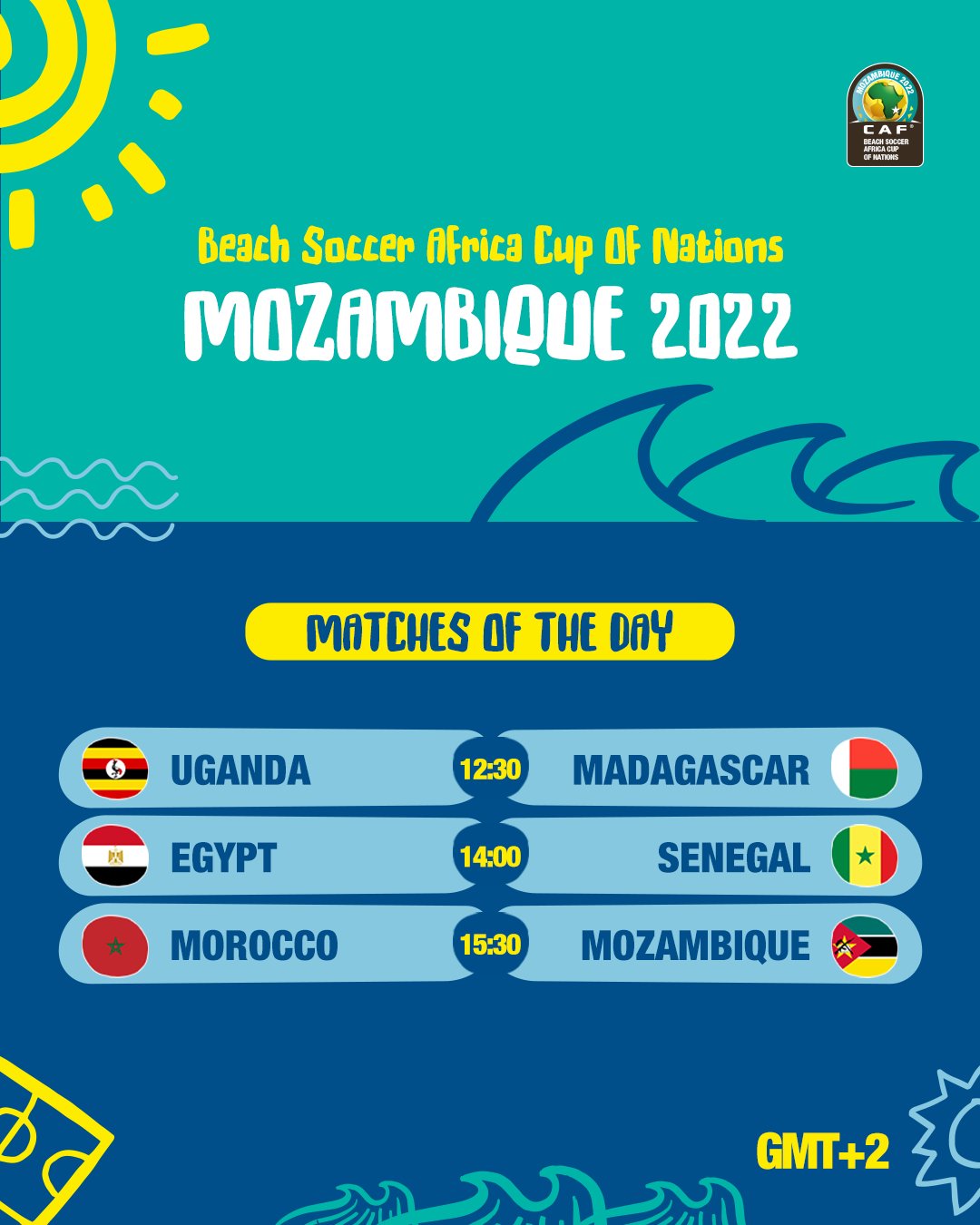 Beach Soccer AFCON D3 : What the coaches have said so far : 
Mamadou Diallo, Senegal coach after big win against Uganda
"I think that it is very important today to enter for the game to win the first game because, I know, a lot of teams are waiting Senegal's team because Senegal is the champion of Africa. And then every team going to wait us and I tell my players: you have to show the player in the field. Not talking, not saying Senegal is a champion by talking or writing, you have to prove it from the feel and the most important for us is to win the first game and the team win the first game is a very good start. The match wasn't easy. Nothing is easy because when Senegal play lot of team look to Senegal. Me too I prepared my team and the first thing I told them, don't take a goal. For me they were supposed to win."
Angelo Schirinzi, Uganda coach after heavy loss against Senegal
"It wasn't really a good start for us. We came into this game aware that we would be facing the defending champions and, we also expected to face difficulties and that is realistic. Now we have to think about our next opponents, in this case Madagascar and Egypt. We must beat these opponents to reach the semi-finals".
Solofo Tsiavahana Ramarolahy, Madagascar coach after defeat to Egypt 
"I am on one hand satisfied with the commitment and fight my players showed on the pitch. We managed to turn the result around, even after losing. Our aim was really to win this game. We will try to rest for tomorrow's game against Uganda.
Moustafa Zeidan Lofty, Egypt coach after penalty win over Madagascar
"Sometimes the beginning of a competition like this we have happy days and others not so happy days. It was a very tight game between the two teams. At one point we failed to control the game and allowed our opponent to score. We made some mistakes that cost us dearly. Tomorrow we have a big battle against Senegal. Right now our focus is on tomorrow's game.
Send us your stories and breaking news to [email protected]